Over the years, technology in the workplace has become increasingly present; be it a self-serving checkout or an advanced computer software package keeping companies in the now. But in recent years, a new tool has emerged from the technological toolbox; the Employee App. Today, the key to adaptability comes in the form of an Employee App, connecting employers and employees alike, with the capacity to take the various work sectors forward. How, you ask?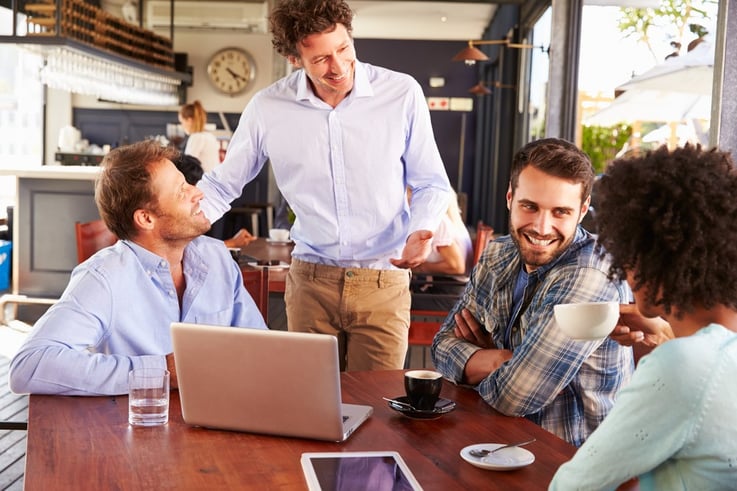 The state of Hospitality so far
The hospitality sector is a diverse industry, home to various occupations, including waiters, chefs, receptionists to name a few. And in an industry that thrives on diversity, there have been many opportunities for technology to move the industry forward.
The Digital Age has given various organisations the means to reach global audiences under a defined, iconic identity such as Premier Inn, McDonalds and Millennium Hotels etc. Thanks to a mass of websites, social networks, blogs and infomercials, brands can now spread their trademarks faster than wildfire.
Also, food orders aren't just gathered with the ancient ritual of having pen and paper at the ready. Pubs and restaurants are making use of the Aztec EPoS System. What could be written down in a few scribbles can now be typed up in a few clicks.
Hotels pride themselves on delivering a high standard service to guests. Now, technology has allowed hotels to deliver tailored services suited to a guest's individual needs. Imagine checking into a room and being able to customize your TV, lighting and air conditioning preferences, all through smartphone. Now hotels can provide a unique service with universal applications.
However, despite its leaps and bounds, the Hospitality sector does run into the occasional bump in the road.
Even though Hospitality is a large and diverse sector, size can still be a double-edged sword. Some establishments such as hotels employ thousands of employees across a national chain. As such, it can be increasingly difficult to make yourself known among the masses.
Also, while training is a requirement for all working establishments, hospitality has the added challenge of providing multiple forms of training in an environment that depends on several diverse roles, from receptionists to chefs to caterers, all roles heavily reliant on routine.
But perhaps the biggest hurdle is the issue of recruitment. Employment organization People 1st produced a report in 2014 that showed the UK Hospitality sector had an average turnover rate of 20%. The reasons vary, sometimes down to a skill shortage among candidates, sometimes down to pre-conceived notions of the sector, such as low pay, zero-hour contracts, the usual work-based 'buzzkills'.
Enter the Retail Employee App
This is where the Employee App comes in, equipped with a wide variety of features that can help fill in those road bumps. The Employee App allows staff to post their own content online for all registered users/employees to see. Be it an article or video or even commenting on their day, staff can use the app as an outlet for their views and opinions, ensuring that their voice is heard within the company.
Also, rather than being limited to scheduled professional training, establishments can create detailed step-by-step training guides in either a written or audio format covering various topics, from catering to customer service that staff can always revisit.
The app also offers some alternatives to conventional recruitment practices. Users of the app can create a Staff Referral page to refer friends or relative to the company before they are contacted directly, giving candidates that digital foot in the door.
These are but a few examples of the potential that can be unlocked by utilizing an Employee App. The Digital Age is in full swing, rife with innovation, progression and changing conventions. The Employee App is an ideal means of bringing these developments into the workplace to contribute towards a dynamic environment for employers and employees alike.