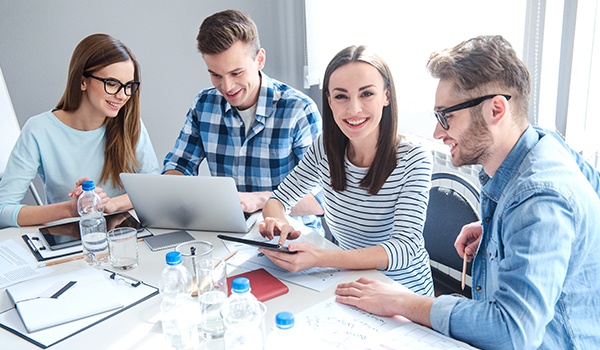 Employee experience, you've probably heard about it. It's a pretty hot topic of late.
We entered 'employee experience' into our favourite search engine and it delivered 350 million web results! We're one more employee experience article away from breaking the internet (Kim Kardashian would be jealous).
So, rather than sifting through the many search results we thought we'd save you a little bit of time (and sanity) by explaining the 'employee experience' to you. Why it matters and how the company can benefit from making its employees fall in love with everything it does.
1. What exactly is employee experience?
Let's start with what employee experience isn't. Positive employee experience is not achieved by sticking a ping-pong table in the corner of the office neither is it by offering free pizza once a month. Although these perks are greatly appreciated (trust me) in the short term, they do not solve business problems.
The employee experience is a much broader subject, and perks are just one aspect of the overall experience. An employees interaction with the company, management, coworkers, customers and the environment all play important roles in affecting the cognition and attitudes that form a positive or negative employee experience.
---
2. Why should I be bothered about employee experience?
"Happy staff = happy customers"
The mantra you'd expect to hear from Richard Branson. Well, it comes as no surprise that he did of course say this. And well...it's true! But that's not the only worthwhile benefit of creating a great employee experience.
Employee Loyalty / Staff Retention: Are your employees loyal? Are you sure? 47% of UK employees are planning to leave their jobs within the next three years, compared to 34% of European employees. What does employee experience have to do with this? Well, 46% of UK workers would quit a job they'd had for years for better job satisfaction.
Productivity: Happy, loyal employees really want to work for you. Whether that be avoiding previous procrastination habits or staying that extra 10 minutes in the office. Your engaged staff simply get the job done.
Reduced Recruitment Spend: There's no better advertisement than your current employees. Employees with great work experiences become 'raving fans' of your business. You can now relay on word of mouth and referrals to ascertain great talent. 48% of talent acquisition leaders across 35 countries surveyed by King Recruit said that referrals were the best source for obtaining quality talent.
---
3. Reaping the rewards of employee experience
Sounds great, I'd love to improve employee experience, reduce recruitment costs, improve retention and productivity...But how? Well, there's an app for that.
Whatever vision you have for the company , Workvine's employee app enables you to create the employee experience you want.
Just a few great ways you can improve employee experience with the app include:
Share business news instantly with all employees, no matter where they are based.
Enable management to recognise and praise staff performance.
Promote peer to peer communication with the apps built-in chat facility.
Recognise and reward staff with a variety of perks via the app
Capture more talent with the built-in staff referral page
But that's not all, find out what our employee app can add to your experience today.