So what's new in Version 4.0? We'll walk you through four features in this summer's release that expand on some of our biggest updates from the past, and others that add brand new value to your communications platform. Find out here what's new in 4.0!

1. SAP Leave Requests: Holidays just became even more relaxing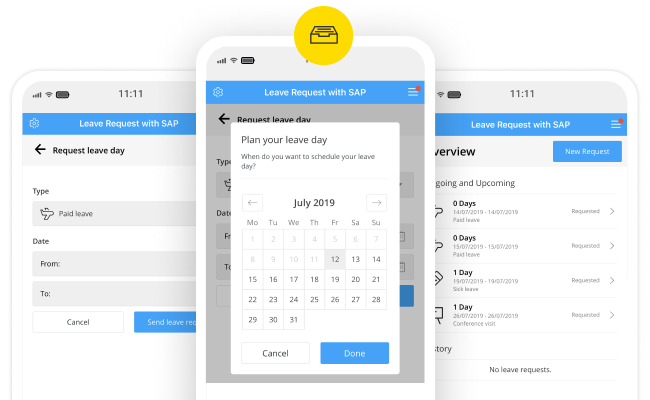 If you're keeping up with what's hot in internal communications, you already know that one of the most important trends in 2019 is the convergence of internal communications and HR. Employees often have multiple digital pathways for giving and receiving information within the company, and departments seldom work in tandem to give them a cohesive experience.
Until now, the Staffbase platform has offered a number of plugins to allow HR processes to happen in the employee app context, but now we're excited to take things a step further and offer you the SAP HCM connector. It directly connects your on-premise SAP system with your employee app and creates a cohesive experience for employees and HR departments alike. If your HR department is using SAP for leave requests, your employees can now find this service directly in their employee app.
This new integration offers benefits to employees, HR departments, and communications departments alike. Employees no longer have to log in to a separate system to see an overview of their absence days, request time off, or see the status of their requests. HR departments benefit from the widespread availability of the service to all employees digitally, reducing paper processes and simplifying administration.
For communications departments, the more employee self-services offered in the employee app, the more relevant it becomes—HR services such as those provided by SAP aren't just nice to have, they're necessities. One of the keys to a successful and highly engaging employee app is giving audiences a reason to keep coming back.
2. Allow us to introduce…
Ladies and gentlemen, we present you with a sleek new newsfeed and notification centre.
If you're managing an employee app, you know what you're up against: competing for relevance with other communication tools on your employees' personal devices. Making sure your content looks good and is easily interactive is a constant process of evolution based on user experience trends, and we hope you like what we've come up with this time around.
The new newsfeed provides you with three different layouts for displaying content in the app, and it also allows you to set videos as headers for articles. Authors can now choose between two different gallery options for displaying media: collapsible and slideshow photo galleries.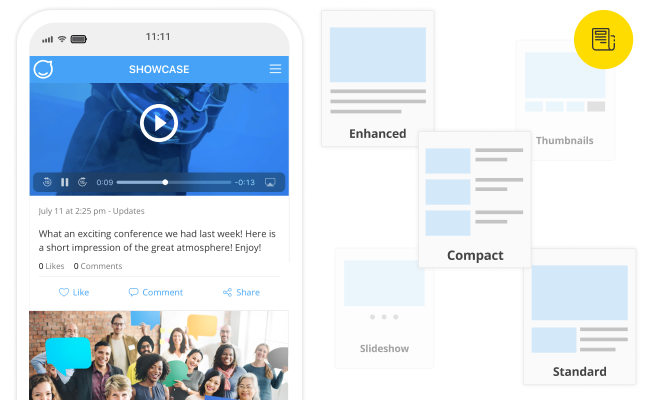 Your employees will now see content in their feed as never before, and we think they'll be increasingly prone to interacting with it, too. All social interactions, including likes, comments, and shares, can now take place directly in the newsfeed, because one less click can go a long way. Additionally, users can play videos directly in the newsfeed.
Following the preview version of the notification centre in the last release, Staffbase are also rolling out an enhanced notification center for all users with the latest version of the app. The notification centre bell icon is placed alongside the user profile for easy access, and leads to the notification feed, a one-stop centre that lists all your read and unread notifications in chronological order.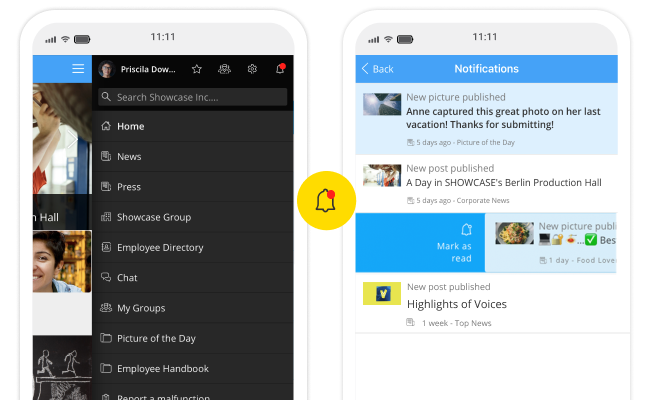 Starting now, your employees will see a red bubble indicating the notification count on the bell icon in the upper righthand corner, both on the web app and on mobile. The read or unread status of the notification changes automatically, or can be changed manually by the user. With this new feature, employees won't miss a beat, even if there was no email or push notification attached to an update.
3. Don't worry, we've got your back!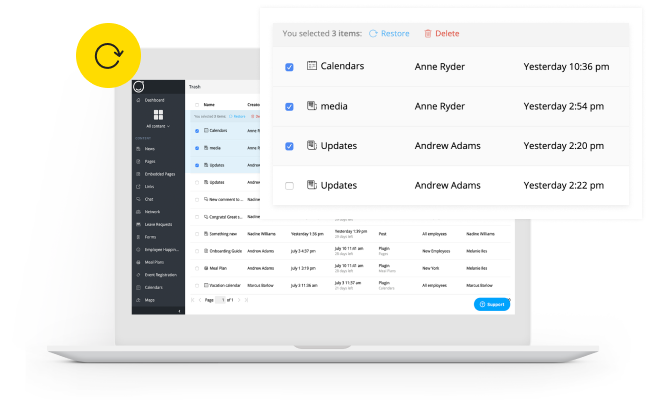 In version 3.9 Staffbase also released a beta version of the trash feature, which has now been proven thoroughly reliable and is ready for rollout to all customers. This one goes out to all of you who have experienced the remorse of accidentally deleting important information.
The trash feature makes it possible for you to delete and restore not only posts and comments, but also channels, pages, chats, menu folders, plugins, and, just to be on the safe side, entire spaces. Deleted items will stay in the trash bin for thirty days and only thereafter will they be deleted permanently. So delete and restore to your heart's content! Managing editors and space administrators will be able to restore certain content as well.
4. A new member of the Office 365 integration family
Your employees' front door to the digital workplace is opening wider. Staffbase have been busy all year developing features that allow you to bring information from all departments to one place and make it easy for employees to find.
In the last release, we introduced the Office 365 files plugin to allow your employees to see files from Office 365 in the Staffbase platform, and our integration capabilities in this area are growing.
The Office 365 calendar plugin shows a group calendar, shared calendar, or an employees' personal calendar from Office 365 directly in the Staffbase platform. Employees can access events on desktop and on mobile. Look for more information on how you can give your employees the complete Front Door Experience—coming soon in September!
Learn more about these fantastic four features in the support portal!
---

Written by
Anne Hoffmann
Anne is one of Staffbase's technical content writers. She writes technical support articles and release communications to help customers get the most out of the Staffbase app.