With the April release we are rolling out several new features as a preview and are looking forward to your feedback. The newsfeed has been redesigned, and now includes the ability to watch videos and like posts directly in the feed, and it offers more options for displaying images. All of this that will make user interactions more engaging and meaningful. On top, users can now translate news on demand. The new Notification Centre keeps things organised. You can now recover deleted content and we are also expanding our integrations with a new plugin for SAP Fiori and an integration for files from Office 365.

The Newsfeed Got a Makeover
News is at the heart of your employee app and probably one of the reasons you introduced the app in the first place. From day to day, employees are exposed to engaging user experiences on different social networks. Pictures and videos are presented upfront, and direct interactions are possible with a single click.

From now on, this same experience is available in the brand new newsfeed of the Staffbase platform—and especially in the mobile app, where having social interactions available directly in the feed greatly compliments the mobile experience. Additionally, pictures, videos, and galleries are now presented more aesthetically and have more exposure in the feed, which also adds value to the web app. Videos can also now be used just like article images, and users can even play videos directly in the feed.
In the current preview version, you can test the new newsfeed design. In the future, you will have the ability to flexibly adjust the look of your newsfeed; for example, by configuring the display and size of images in articles.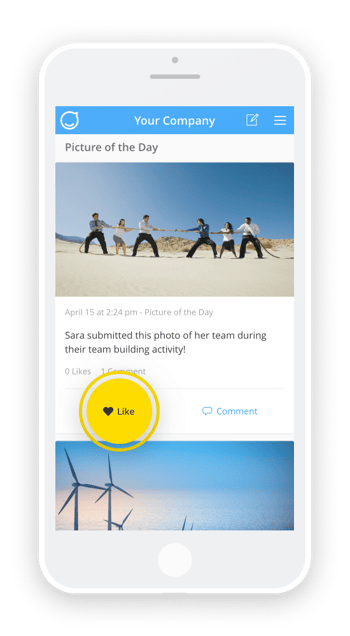 In addition to the new look and feel of the newsfeed, communication in international companies will now become easier with on-demand translation of news and posts. Employees can translate news into their preferred language, allowing editors to publish news directly without having to wait for lengthy translation processes. You can still create multilingual content via the admin area to offer high-quality translations, but this feature ensures that all of your employees can stay in the loop when that process isn't possible.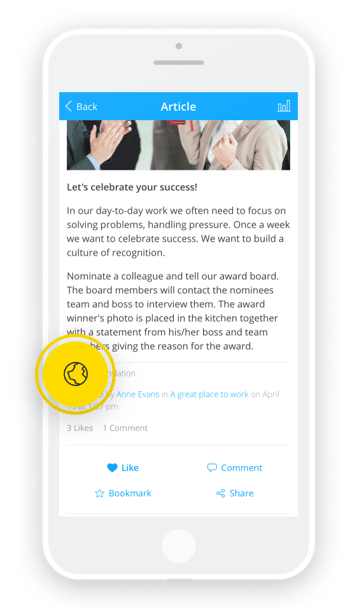 After a trial phase, the new newsfeed will be rolled out free of charge to all customers. We will, of course, inform you of this change beforehand. For now, feel free to contact your Customer Success Manager if you would like to try it out. On-demand translation for news is already available and can be activated free of charge by your Customer Success Manager.
Next Level Notifications
Wondering what you missed in your employee app, but don't want to be distracted by notifications on your phone? You are currently able to send push notifications or notification emails for new posts. Push notifications are a crucial way to regularly get employees into the app. But with today's information overload, finding the right amount of notifications to send is like walking a tightrope.
With the new Notification Center, you can stay up to date and keep excessive phone-checking at bay. The Notification Center chronologically lists what's been added to the app in your absence. So you and your employees always have an overview of plugin updates and new posts, and never again miss the best comments on an article.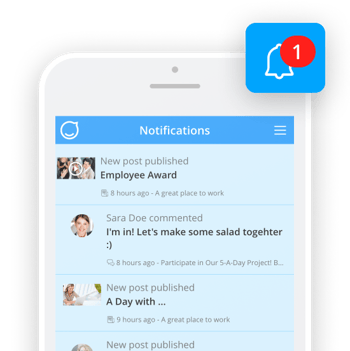 The Notification Center will be available to all customers for free with the next major release, planned to land in about three months. Currently, we are happy to activate a preview version for your app. Contact your Customer Success Manager to test it.
More great news about notifications: the Notifications API—previewed in the last release—is now publicly available. You can send notifications through your employee app for plugins of all kinds. Developers of third-party plugins in particular will benefit from the Notifications API. Third-party plugins can now send notifications through Staffbase, and they are also displayed in the Notification Center. The API is already available and you can read about it in more detail in the Developer Portal.
Don't Be Afraid to Click Delete
Who hasn't hesitated just before clicking delete? Up until now, the Staffbase platform has followed the following rule: Deleted is deleted. Gone. Never to return.
Administrators, take a breath of relief! You can now clean up your content with ease. Deleted posts and articles will be put into the trash and remain there for 30 days after deletion. Only after this time will the items be permanently deleted. Of course, you can delete content directly from the trash immediately and permanently if you wish.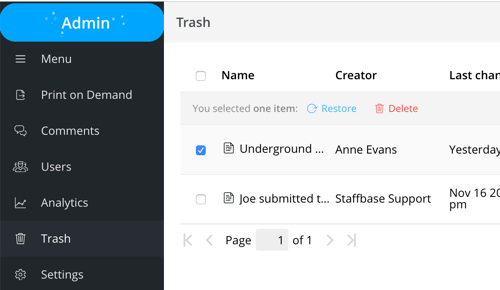 This new feature will soon be rolled out free of charge to all customers. We will gradually improve this feature so that in the future the trash will also work with other items such as folders, pages, and plugins. Contact your Contact your Customer Success Manager if you would already like to activate the trash.
HR Self-Services in Your Employee App
Many companies are working to digitalise HR processes. Staffbase provides a central point of entry for different HR self-services like clocking in and out, making vacation requests, or filing for sick leave. In this release, we are introducing another step in that direction—a plugin for SAP Fiori. From now on, you can integrate an SAP Fiori Launchpad for HR self-services directly into your app. Contact your Customer Success Manager if you are a customer on the Enterprise Package and would like to use the SAP Fiori integration, and also have a look at the configuration guide. If you use other HR systems, the Staffbase platform is enabling an increasing number of such systems to be directly integrated into the app via connectors, in order to create a common entry point for all HR services.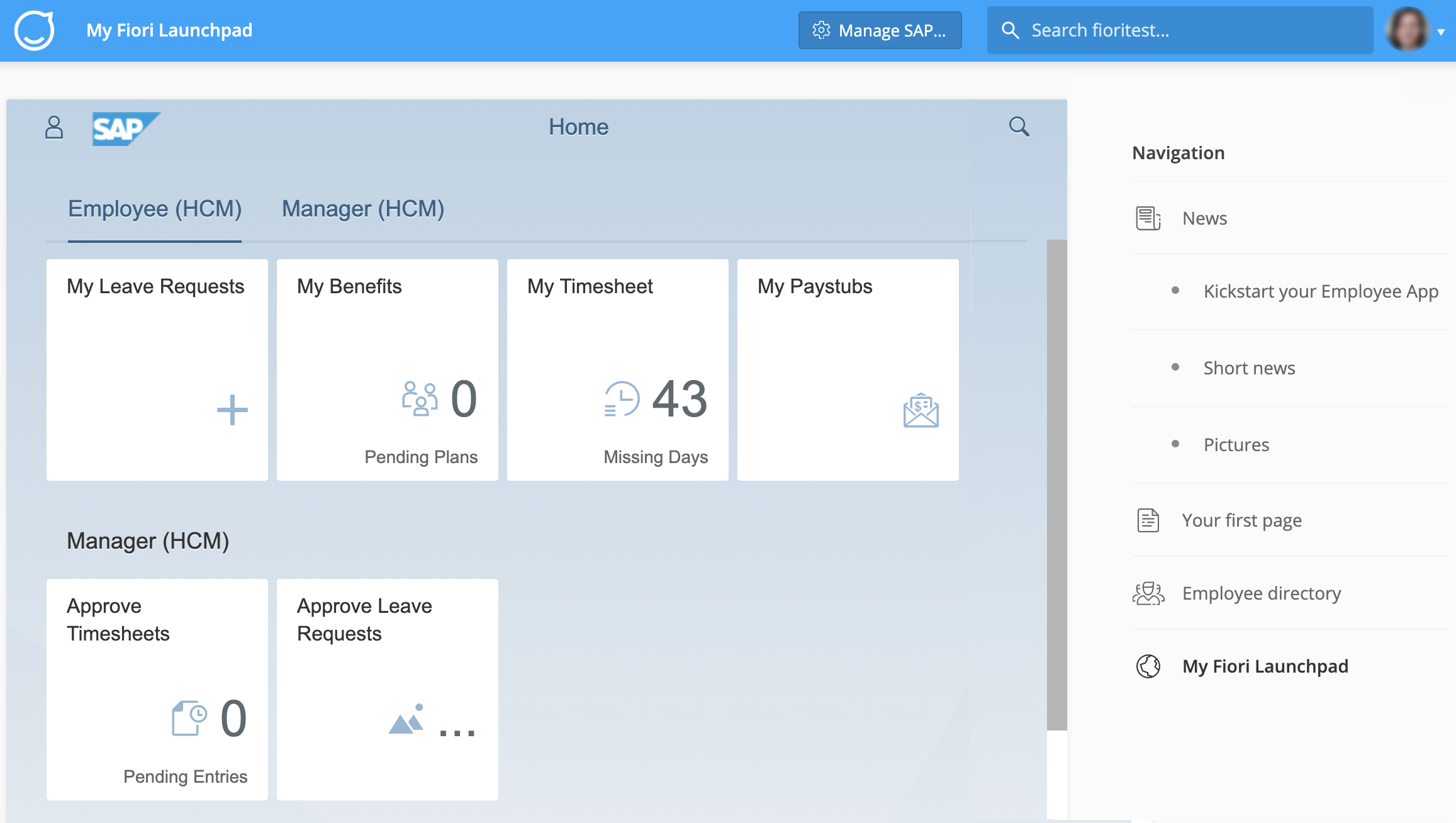 We are also working on the integration of further standard connectors. A preview of the Absence Plugin gives you an idea of how employees can easily request vacation time or a leave of absence within the app. Contact your Customer Success Manager to activate a preview with demo data in your platform. Staffbase is looking forward to your feedback on the usability of this feature and would like to learn more about your requirements; for example, regarding the tools and systems you would like to integrate.
More O365 Integrations
We focused our last release on the integration of communication in SharePoint and Microsoft Teams with the Staffbase platform. In this release, we introduce the Office 365 Files Plugin, which allows you to show files from within Office 365 directly in Staffbase.
Office 365 and SharePoint provide essential functions for document and metadata management. The Staffbase employee app provides a central entry point to the digital workplace. You can now display, filter, and sort a list of documents from Office 365 in the employee app. In addition to displaying a document library, you can view your most recently opened documents. Files are displayed in the employee app, but when a user opens a document, he or she is redirected to Office 365. This integration makes the employee app an entryway to the digital workplace without interfering with the core functionality of your collaboration systems.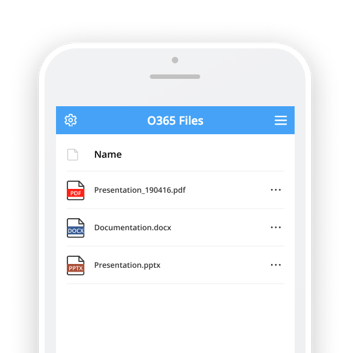 This plugin is available for customers on the Enterprise Package. If you want to use the Office 365 Files Plugin, each user must have an Office 365 license. The plugin will be fully rolled out shortly after the release and you can contact your Customer Success Manager if you would like to receive an update once it becomes available.
Read the details about all new features, improvements, and bug fixes in the full release notes.
The release has been rolled out to your web app. Employees should see the update becoming available on their mobile devices throughout the day.
If you have any questions, please don't hesitate to contact us or leave a comment below.
More information about the latest updates of your employee app:
---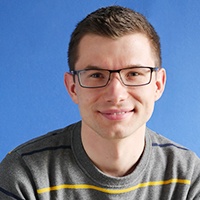 Patrick is the Head of Product at Staffbase. He is shaping the product roadmap by bringing the long-term vision of Staffbase together with the requirements of various stakeholders. Building long-term relationships with customers and partners is as much part of this role as staying on top of latest trends in employee experience.
Based in New York, he is also pushing forward the company's international expansion.